Fall Foliage Along I-95 From Virginia to Maine – Part Two: New Jersey to Massachusetts
October is a special treat for I-95 travelers in the Northeast. That's when fall foliage colors are at their peak all along the I-95 corridor… From Northern Virginia to Maine. This three-part series showcases fall foliage road-trips along I-95 state-by state. Let's check out New Jersey to Massachusetts…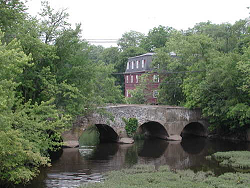 Cool crisp autumn days usher in the breathtaking colors of New Jersey's fall foliage. New Jersey's state parks and forests provide endless opportunities to experience the brilliant transformation of the leaves. New Jersey's Millstone Valley Scenic Byway, an official "America's Byway" has some of the most picturesque autumn foliage scenes. Millstone Valley Scenic Byway is approximately 28 miles long. You should allow about one hour (without stopping) or 2-3 days to visit attractions along the way. Located in the narrow Millstone River Valley in north central New Jersey, the Millstone Valley Scenic Byway offers you a glimpse into the past where well-preserved pieces of the canal era, the revolutionary war era, and early Dutch and American heritage live on.
While New York's portion of I-95 traverses thru mostly urban areas, if you head north on I-87 you'll discover some of the best panoramic fall foliage views anywhere. Peak fall foliage can be seen along I-87 "The Adirondack Northway" northward from New York City thru Newburgh, Kingston, Hudson and Albany.
Almost all of Connecticut is showing peak fall foliage colors in late October. While I-95 in Connecticut is much like New York in that it traverses thru urban areas. The Merritt Parkway, CT Route 169, I-84 and I-91 offer remarkable fall foliage views.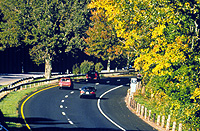 For northbound I-95 travelers, the Merritt Parkway begins approximately 6 miles from I-95, exit 21 (I-287). Take I-287 north to the Hutchinson River Parkway east to the Merritt Parkway east. From there, the Merritt Parkway is approximately 37 miles long. For southbound I-95 travelers, the Merritt Parkway begins approximately 2.5 miles from I-95, exit 38 (Milford Parkway). Take the Milford Parkway north to the Merritt Parkway west. From there, the Merritt Parkway is approximately 37 miles long. You should allow about one hour (without stopping) to drive this route.
Connecticut CT Route 169 is designated as an official America's Byway. The byway begins approximately 19 miles from I-95, exit 76 (I-395) in East Lyme, Connecticut. Take I-395 north to exit 83A. From there, Connecticut State Route 169, is approximately 32 miles long. You should allow about one hour (without stopping), or one full day to visit attractions along this route.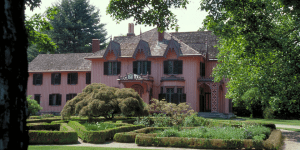 While Rhode Island is small, there's no shortage of fall colors here and this state shows its brightest colors in late October. Western and northern Rhode Island are heavily wooded and are exploding with color this time of year. Get of I-95 just about anywhere and you won't be disappointed. Blackstone Valley region including Pawtucket are great places to start. Check out Roger Williams Park and Zoo in Providence; Blithewold Mansion, Gardens, and Arboretum in Bristol and at Colt State Park on the eastern shore of Narragansett Bay.
Like Connecticut, just about all of Massachusetts is in the midst of peak color in late October. I-90, I-91, and I-84 offer great panoramic vistas without wandering off an exit. What's cool about viewing fall colors from the Interstate? The experience is totally different in either direction. Drive one way on I-90, I-91 or I-84, turn around and head back and you'll see a whole new perspective right before your eyes! You can also easily spend several days exploring small towns and villages directly off the Interstate exits along the way.
Try the Massachusetts North Shore Loop for a fall foliage roadtrip from a seaside perspective. Back in the 18th and 19th centuries, the coastal towns along Massachusetts' North Shore were home to the production of magnificent wooden ships that set sail for ports in Asia and Africa, and returning great wealth to the area. Many of the majestic homes and buildings constructed during that era, still stand against the backdrop of some of the most beautiful coastline on the Atlantic. Add a brilliant fall foliage background to an already picture perfect setting and you have memories to last a lifetime. The North Shore Loop passes thru Salem, Beverly, Gloucester, Rockport, and Newburyport.
In case you missed it, visit Part One of our fall foliage series: New Hampshire and Maine.
Check out this handy fall foliage map to find peak colors in your area.
---
For more I-95 information, visit www.i95exitguide.com, the Internet's largest and most complete website devoted to I-95, America's Interstate Main Street. Detailed exit service listings… discount lodging, camping, food, gas and more for every exit from Maine to Florida!
Traveling another route? Visit our growing family of exit guides: I-4 Exit Guide, I-5 Exit Guide, I-10 Exit Guide , and I-75 Exit Guide.
Source:: I-95 Featured